Simplicity
Have you ever decided to walk to work rather than take your car just to enjoy the basic action of movement? Do you ever put your laptop away and take out a tablet and a pen to write down your thoughts because you miss the feel of a pen against the paper? Do you sometimes do a mathematical computation without a calculator to make sure that you still remember how to multiply? Have you made a cake rather than purchased one from the store for the thrill of going back to basics?
Simplicity. Performing basic, fundamental acts that slow us down, give us joy, and help us to remember our true being. We sometimes get lost in the technology, in the hubbub, and in the complexity. And when we get too lost, we really do lose our way. Sometimes we need to just go back to the beginning.
Universe Responding is simplicity. THINK, BELIEVE, LISTEN, ACT, and ACKNOWLEDGE; five elements that form a framework for the most basic aspect of our relationship with our Higher Power- that of communication. The Universe Responding concept is one of continuous communication with the Universe. With an underlying belief in the power and willingness of God to co-create, I think constructive thoughts. I'm communicating with the Universe through my thoughts. The Universe responds to my constructive thoughts with messages. This is the way the Universe speaks to me, using my friends, a coincidence, a "hunch," a commercial on TV, and a hundred other ways to deliver its message. I listen and I hear. As in any communication, being a good listener is essential. I hear the Universe speak to me. I discern the guidance in the message; in other words, I interpret what is being said to me. Then it's my turn to communicate again. Now I do it though action. But while I act, I think, I believe, I listen, then I act some more, as I co-create a natural flow of communication with the Universe. And, of course, as I would with any human with whom I was communicating, I give thanks for what I've received. This part of the communication keeps my attitude open, positive, and aware that I'm involved in a divine conversation.
Everything that we write, speak, and teach about Universe Responding boils down to this simple concept of continuous communication. If you are a new student to the spiritual, to the metaphysical, or to New Thought, Universe Responding will provide a rock-solid foundation for your relationship with your Higher Power. If you're in the "graduate school" of understanding these concepts, Universe Responding will give you a refreshing way to regain simplicity, helping you to reconnect with the basics and perhaps even contributing some new insights.
Universe Responding is a simple, straightforward, and easily understood and applied Spiritual Model For Life. It's for every point on every person's spiritual journey!
____________________________________
The Meditation Medallion - A Beautiful Reminder to "Listen Without Ceasing"

One of the cornerstones of the Universe Responding Spiritual Model For Life is the concept of "listen without ceasing." The Universe continually responds to our constructive thoughts by sending us messages through its many messengers. The more we listen, the more we hear, and the more our actions become guided by the divine wisdom of the Universe!
The Meditation Medallion is a companion to both our structured and our flowing periods of meditation. Held during those times when we are silent and focused, it centers our attention on the importance of listening. Carried in a pocket, attached to a mirror, or displayed on a desk, it increases our awareness of Universe Responding as we go about our daily experiences. The nickel Meditation Medallion, with its polished raised depiction of the Universe Responding Spiritual Model For Life, is a beautiful reminder to "listen without ceasing."
The Medallion is one ounce of nickel and may be purchased only at our web site.
________________________________________
Book Signing Scheduled

Please mark your calendars for our upcoming book signings! Meet the author, have her autograph your book, and enjoy refreshments during this event. Valleri´s new book, Universe Responding, A Spiritual Model For Economic Abundance will be featured:
Saturday, December 5, 2009
5:30 - 7:30pm
at Confetti in downtown Celebration
______________________________________

ARE YOU IN THE ORLANDO AREA?
Join Valleri Crabtree as she teaches "How to Live Your Life Guided By the Universe," a six week class which will be held at the Florida School of Holistic Living, beginning on Wednesday, January 6, 2010. Each class meets from 7pm - 8:30pm. Class dates are 1/6, 1/13, 1/20, 2/3, 2/10, and 2/17 (no class on 1/27).
For more information and to register, contact the Florida School of Holistic Living at www.holisticlivingschool.org or call 407.595.3731.
________________________________________


Universe Responding,
A Spiritual Model For Life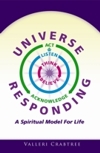 is available online at:
www.amazon.com – both paperback and Kindle editions
www.UniverseResponding.com
is available at the following bookstores and boutiques:
Confetti in Celebration, FL
Spiral Circle Bookstore in Orlando, FL
Shining Through Bookstore in Delray Beach, FL
Starchild Bookstore in Port Charlotte, FL
New World Wellness in Kissimmee, FL
Casadaga Camp Bookstore, Casadaga, FL
is available at the bookstores of the following Unity churches:
Unity of Ft. Lauderdale, Ft. Lauderdale, FL
Unity Church of Melbourne, Melbourne, FL
Sarasota Unity Church, Sarasota, FL
New Life Unity Church, Tampa, FL
Unity of Fort Myers, Fort Myers, FL
Universe Responding,
A Spiritual Model For Economic Abundance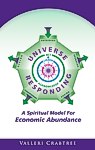 has just been released
and is available online at:
www.amazon.com (paperback version only)
www.UniverseResponding.com
Watch the Universe Responding Facebook page and www.UniverseResponding.com for newly added locations for both books! Would you like to know more about our book? Check out the testimonials at UniverseResponding.com and the reader reviews on amazon.com!
And, in addition to the bookstores listed above...
Universe Responding, A Spiritual Model For Life is now available through NEW LEAF DISTRIBUTING COMPANY!
This is a major, international distributor of books to retail bookstores.
This means that you can now request our book at your favorite New Age and New Thought/Metaphysical bookstore! Be sure to let them know that our book is available through NEW LEAF.
_______________________________________
Enjoy Universe Responding - The Song

Enjoy Universe Responding - The Song on the Universe Responding facebook page. The complete, professionally recorded song can be heard at this location. This beautiful song is the perfect companion to your study of Universe Responding. Universe Responding - The Song beautifully sums up the concept of Universe Responding as it reminds us of its five elements. Gaab set the lyrics, which were written by Valleri, to an outstanding musical arrangement, which he also performed. To add it to your own music library, please visit www.UniverseResponding.com or www.amazon.com where it is available for purchase.
_______________________________________
WOULD YOU LIKE TO KNOW MORE ABOUT UNIVERSE RESPONDING?
Here are a few ways that you can learn more about Universe Responding...

* Purchase the book, Universe Responding, A Spiritual Model For Life, which is the cornerstone of the Universe Responding concept. To truly understand the power of this formula and how it can make a dramatic change in your life, the book is essential to your study. See above for a listing of locations where the book is available.
* Purchase the second book of the series, Universe Responding, A Spiritual Model For Economic Abundance, to learn how to apply the Universe Responding Spiritual Model For Life to the Five Portals of Ecnonomic Abundance- Obtaining, Spending, Saving, Transforming, and Giving.
* Become a Universe Responding facebook fan! Join our fan page to receive regular updates, enjoy opportunities to participate on the page´s discussion board and frequent Co-Creation Comments, and stay up-to-date with Universe Responding through its Wall postings. On the facebook page, you can hear the song, watch our videos, and connect with like-minded friends.
* Become a Universe Responding Community Member on the Universe Responding web site. Community Members not only receive the newsletter, but they also get discounts on books and designated products, are invited to contribute to the Universe Responding web site discussion board, and are eligible to participate in studies conducted by the Universe Responding Institute, Inc. NOTE that if you are currently registered as a "Newsletter Only" Member, it´s easy and quick to upgrade to a Community Member. Simply click the "Upgrade to a Community Member" link on the log-in page and follow the instructions. Remember that it is FREE to become a Community Member!
* Follow Valleri Crabtree, co-creator of the Universe Responding Spiritual Model For Life, on Twitter! Valleri will keep you informed through her "tweets" about all the most recent Universe Responding developments!
* Read the reviews of our book, Universe Responding, A Spiritual Model For Life, on www.amazon.com.
* View our videos on YouTube.
* Attend a live presentation, workshop, or class conducted by Valleri or attend a book signing in your area. Check this newsletter and our web site for details!